Ochsner Fitness Center has a complete nutrition program including a team of registered dieticians who can meet with you for a 1:1 or virtual consultation.
Please email the RD's to set up your appointment today!
Meet Our Dietitians
Click on each RD's name to learn more.
Nutrition Services
Individual Consultations | Nutrition Workshops | Eat Fit NOLA | Medical Fitness Program
Individual Consultations
If you're looking for a lifestyle change to help you shed body fat and get stronger, or increase energy and improve your quality of life, it's time to get the optimal nutrition plan you've been waiting for. The Registered Dietitians at Ochsner Fitness Center work closely with you to help identify and narrow down your specific goals, as well as any potential barriers you might be dealing with. Our team will then work with you to develop a customized meal plan that fits within your unique needs and lifestyle, developing a nutrition and lifestyle plan that is intense enough to see results fast and maintain motivation, yet is realistic as a long-term lifestyle change.
12-Week Nutrition Therapy Package Protocol:
Initial 90-minute one-on-one nutrition consultation
Five 45-minute follow-up sessions, every two weeks
Six InBody BIA (bioelectrical impedance analysis) Body Composition Analysis tests
Two Resting Metabolism tests (pre- and post-12-week protocol)
Total Value: $840
12-Week Protocol Package: $575
---------------------------------------------------------------------
90/45 Package:
Initial 90-minute one-on-one nutrition consultation
1, 45-minute follow-up session
Package Price: $300
---------------------------------------------------------------------
A La Carte Options:
REE (Metabolism testing): $75.00
InBody body composition machine: $15.00
Additional 45 minute follow-up: $75.00
---------------------------------------------------------------------
Our nutrition team can help you reach any & all wellness goals:
Reduce Body Fat
Nutrition program developed to help you shed excess body fat, while maintaining optimal energy levels and lean mass. A 90-minute initial nutrition consultation includes setting realistic goals based on level of body fat, physical status and exercise regime, as well as current eating patterns.
Increase Lean Mass
Nutrition program designed to help you increase muscle mass while maintaining or decreasing fat mass.
Lifestyle Management
Nutrition program designed to increase energy, improve cholesterol, blood pressure and blood glucose levels and enhance overall wellness.
Sports Performance
Nutrition program designed to optimize an athlete's fuel intake to enhance sports performance, including evaluation of current daily intake, as well as food, drink, and supplements consumed before, during, and after training.
Nutritional Supplementation
Develop an individually tailored supplement protocol to help you meet your fitness goals. Learn what your body actually needs, instead of spending money on products that may not be beneficial.
Kids & Family
Ochsner's nutrition team works with kids and families to develop nutritious balanced menu options that incorporate kids' preferences as well as the family dynamics, accommodating the demands of the entire family's tastes, preferences, and schedules.
Nutrition Workshops
Ochsner Fitness Center dietitians offer nutrition seminars and workshops for organizations looking to empower and educate their employees and members.
Click here to download our Nutrition Workshop & Seminar Brochure.
Eat Fit NOLA | Ochsner Eat Fit
New Orleans is celebrated for its food, but dining at your favorite restaurant doesn't have to mean ditching your otherwise-healthy diet.
The registered dietitians with Ochsner Fitness Center have created Ochsner's Eat Fit initiative, collaborating with local restaurants to highlight the better-for-you items right on the menu, making it effortless for anyone to eat nutritiously, anywhere in the city.
Eat Fit NOLA has more than 70 partners in the region, including Audubon Zoo and the Mercedes-Benz Superdome, and is expanding into other regions, including Eat Fit Northshore, Eat Fit Bayou, and beyond.
Follow Eat Fit NOLA on Facebook, Instagram, and Twitter, and download the FREE Fit NOLA / Eat Fit NOLA smartphone app for Eat Fit recipes, and to find Eat Fit approved restaurants near you.
Click here to receive the weekly Nutrition Bites presented by Ochsner Eat Fit.
For more information, please visit EatFitNOLA.com.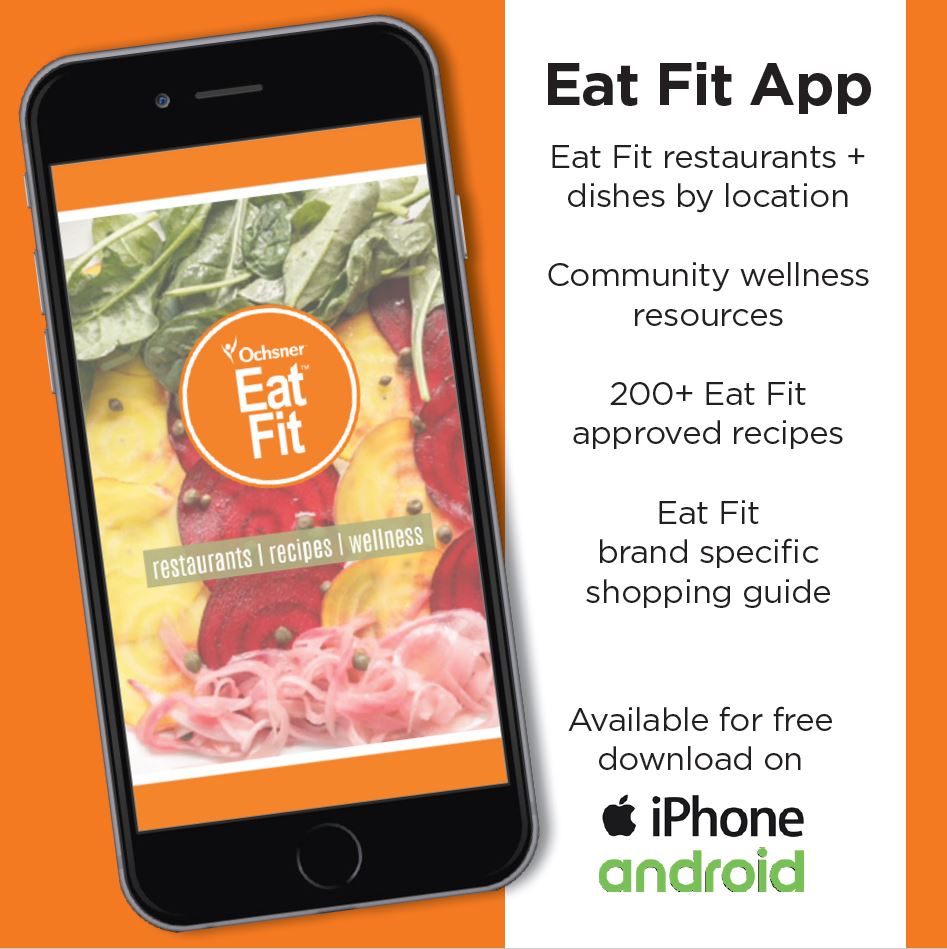 Recipe Nutritional Analysis
Ochsner Fitness Center dietitians offer FDA-compliant recipe analysis and allergen declaration statements, for clients ranging from restaurants to food manufacturers to cookbook authors. Contact Molly Kimball for more information, 504.842.9572 | [email protected].
Click here to download our Recipe Analysis Brochure.
Medical Fitness | Prescribed Wellness by Ochsner
If you're dealing with a chronic condition like diabetes, high blood pressure or obesity; recovering from disease, trying to reduce your risk factors, or improve your overall health and wellness, contact Wellness Manager, Trevor Manuel ([email protected]) about Ochsner Medical Fitness.
Through this physician-referred program, you'll receive:
Discounted 30 day m

embership to any Ochsner Fitness Center location.

First month is $1/day for the first 30 days.

1 hour comp personal training session

Electronic Nutrition E-Class included

Access to group classes and pools

Discounted Ochsner Fitness Center membership after first month